I traveled to the Netherlands with my church for some missions work in the mid 2000's. Before heading across the ocean I did inquire about any possible toy shops in the area on the
TFW2005 boards
. Someone did inform me of a shop located near the Anne Frank memorial so on one of my "free" days we ventured into the city. While some of our group was happy with general sight seeing I myself was on a hunt for Transformers!
After a lot of walking and wondering around the beautiful city I finally found the toy shop I was told about. For the life of me though I can't remember the name of the store sadly (Animax maybe?). It's been so long since I was there it's hard to recall everything about the store, but I do remember it was small and chocked full of various toys, comics and action figures. The employee there was very energetic and probably happy to see an American walk through the door. In my international travels it seems that other people generally tend to view Americans as wealthy...or at least the kids in Africa told me that since they equate a fat belly with being rich! Well that wasn't the case for me...I only had so much spending money with me since the main focus of our trip to the Netherlands didn't involve shopping. After quickly browsing the shelves and not really seeing anything that stood out to me I asked the guy behind the counter if he had any Transformers. His face lit up as if finally someone asked about his favorite line of toys. He informed me that another person bought up everything he had recently, but he did pull out a small zip lock bag of Transformer items as he told me this. In the bag was a incomplete G1 Targetmaster Misfire and some paperwork. I was so eager to buy something at this point that I asked how much he wanted for the bag and I did my best currency conversion to make sure I wasn't getting hosed. I don't remember the transaction amount, but I seem to recall I spent maybe $20.00 USD. Because I spent so much of my precious free time hunting for the store by the time I found it there wasn't much time left before we had to turn around and head back to where we were staying. I purchased the bag of Transformer items, thanked the guy and had to leave. While walking back to a bus stop I opened the bag to get a closer look at the enclosed items. At first it just appeared to contain several TF catalogs that didn't appear to be any different than what was released in the US. Then I came across a stickerbook! I've never seen anything like this before in all of my years of collecting. I've never really shared this with anyone in person or online so if you have seen one of these books before or know anything about them please comment and share! Enough of the talking - onto the pictures already!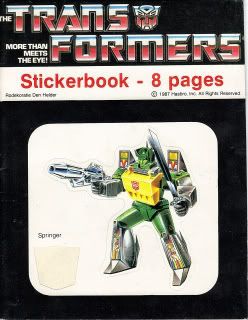 The front of the stickerbook features the G1 logo along with stickers of Springer and a Autobot symbol. Sadly the Autobot sticker is missing as you can see. The copyright date is 1987 Hasbro, Inc. so I know this is an official item. To the left of the copyright date are the words Rodekoratie Den Helder. I have no idea what this means or who that is. There is no dialogue so it's not an author. All the artwork was taken from toy packaging so the name isn't an artist. The booklet itself is rather small at only 5 1/2 inches tall by 4 1/2 inches wide (approximately).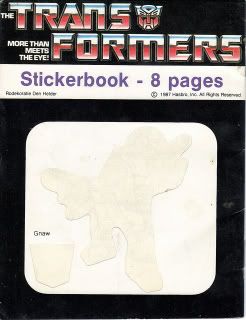 The back of the booklet did feature a big sticker of the Sharkticon Gnaw and a Decepticon symbol, but as you can see both stickers are MIA. Too bad too as the Gnaw artwork is really nice.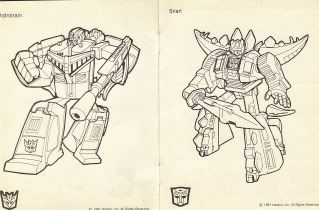 The first two pages reveal black and white box art drawings of Astrotrain and the Snarl. The paper appears to be the same type of paper commonly used in coloring books. It has a slightly rough feel and a off white tint. I'm not sure if that is because of it's age or if that is the way the paper originally looked.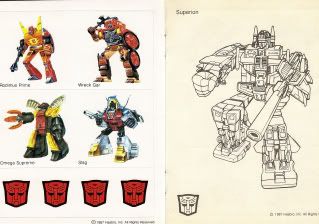 The next 2 pages feature some white square stickers (Rodimus Prime, Wreck Gar, Omega Supreme & Slag) again featuring box art along with 4 Autobot stickers. On the right is the Aerialbot combiner Superion!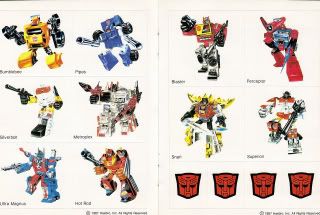 The middle pages features all stickers. From left to right, top to bottom: Bumblebee, Pipes, Blaster, Perceptor, Silverbolt, Metroplex, Snarl, Superion, Ultra Magnus, Hot Rod and 4 more Autobot symbols.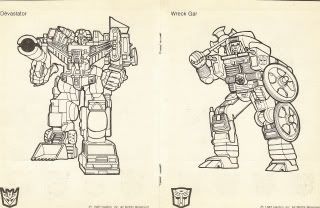 In the back end of the booklet we have more black and white art of the Construction combiner Devastator the the Junkion Wreck Gar.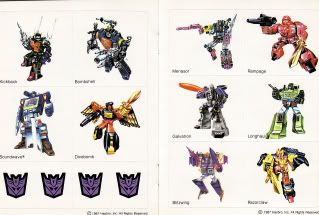 More stickers! This time we are treated to Decepticons. From left to right, top to bottom: Kickback, Bombshell, Menasor, Rampage, Soundwave, Divebomb, Galvatron, Longhaul, 4 Decepticon symbols, Blitzwing & Razorclaw.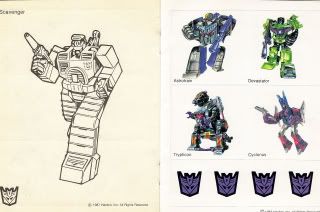 Continuing we have Scavenger and more Decepticon stickers: Astrotrain, Devastator, Trypticon, Cyclonus and more Decepticon symbols.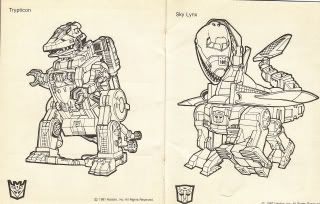 The last 2 pages featured Trypticon and Sky Lynx.