What little boy didn't enjoy playing with Hot Wheels and Matchbox cars growing up? I know I had my fair share of the small die-cast metal cars and trucks when I was little. Transformers got me into collecting toys as a hobby and for awhile I tried to build sets of the new model HWs, but I had a hard time staying excited about the cars. Over the years I've peeked at the die-cast section while at various stores, but until my 2 year old daughter took an interest in HWs I haven't bought many. A few weeks ago however I noticed a new Back of the Future HW car at Toys R Us that I grabbed for a friend. This is when I noticed 2 new Corvettes. My dad was very much a car guy and he owed several Corvettes in the 60's. This lead me to taking an interest in Corvettes myself. Being poor I've had to settle with the toy versions of the iconic Chevrolet.
I first saw the 2009 Corvette Stingray Concept in the Transformers line as Sideswipe was based on this model. This is the first time I've seen the concept in HW form and I love it!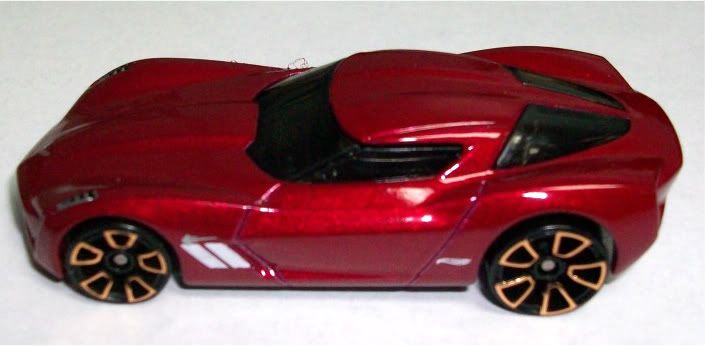 Red looks great on any model Corvette in my opinion and this model is no different. The metallic red is down right beautiful. The wheels aren't my favorite design, but I like the addition of the copper.
Right after pulling the concept model off the pegs I found a another Corvette!
Wide-body styling meets racing-bred suspension, plus improved fuel economy. This baby can spend weekends at the track still do 9-to-5 in style.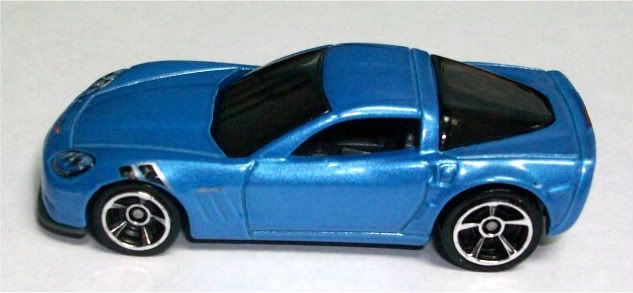 I can't say that I'm all that familiar w/ this new Grand Sport model, but again it's a great looking addition to the Corvette family. The metallic blue works really well. I love the wheel design - I just wish they were copper like on the concept model.